Farm Links
An excellent resource for natural farming and alternative health resources
On-Line Magazine devoted to alternative farming techniques and practitioners.
---
Ministry Links
Missionaries to the Preborn
Based in Milwaukee, Wisconsin, Pastor Matt Trewhella and the Missionaries are the pioneers of the "Show the Truth"-type tour, displaying huge photographs of aborted babies, while also distributing literature and street preaching and witnessing. The Murch Family travels with the Missionaries about twice a year.
---
Life & Liberty Ministries
Based in Cumberland County, VA, the Green Family of eleven also does the tours with the Missionaries, but also works outside of the Richmond area abortuaries full time during the week. They are also involved in support for women in crisis pregnancies. Being a scant hours drive from us, we travel with the Greens on one-day ministry activities on a regular basis.The Greens also own one of the infamous Truth Trucks, which feature pictures of aborted babies so large they cover the entire side of the trucks.
---

Repent America
Preacher Michael Marcavage is best known for his public preaching and opposition to the militant homosexual movement in the City of Philadelphia. Full Quiver Mission joins forces with Repent America about four times a year.
---
A Call to Repentance
Preacher Jason Storms is a full-time campus preacher. The son-in-law of the founder of the Missionaries to the Preborn, we find ourselves on the streets with Jason a couple of times a year as well.
---
Columbia Christians for Life
Steve Lefemine, former candidate for US Senate on the Constitution Party ballot in South Carolina, leads regular public witness events across South Carolina to oppose abortion and sodomy, and to preach the gospel. He regularly travels with us and the other groups we work with. He also conducts an annual Show the Truth Tour across South Carolina.
---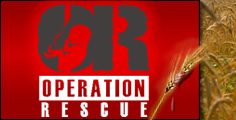 Operation Rescue West
Based in Wichita, Kansas, Operation Rescue West is in the backyard of notorious third trimester baby-killer George Tiller.They also dispatch the Truth Trucks with the aborted baby pictures on the side to events all over the country.